Dillner's Accounting Tools > section > Payroll
Export Payroll Check Detail
This function allows you to export payroll check detail using a range of check dates for all or for selected employees. The details include Check Date, Check #, total hours and gross for all Pay items excluding QSL and QFL, QSL hours and gross, QFL hours and gross, Tips, total Other Income qty and gross, Fed WH, Fica WH, State and Local WH, SUI/SDI WH, Net, and Company Taxes by tax type. There are also separate columns for each Deduction and Employer Accrual. Open the export file and manipulate as desired.

Note: This export can be used for PPP loan forgiveness application preparation.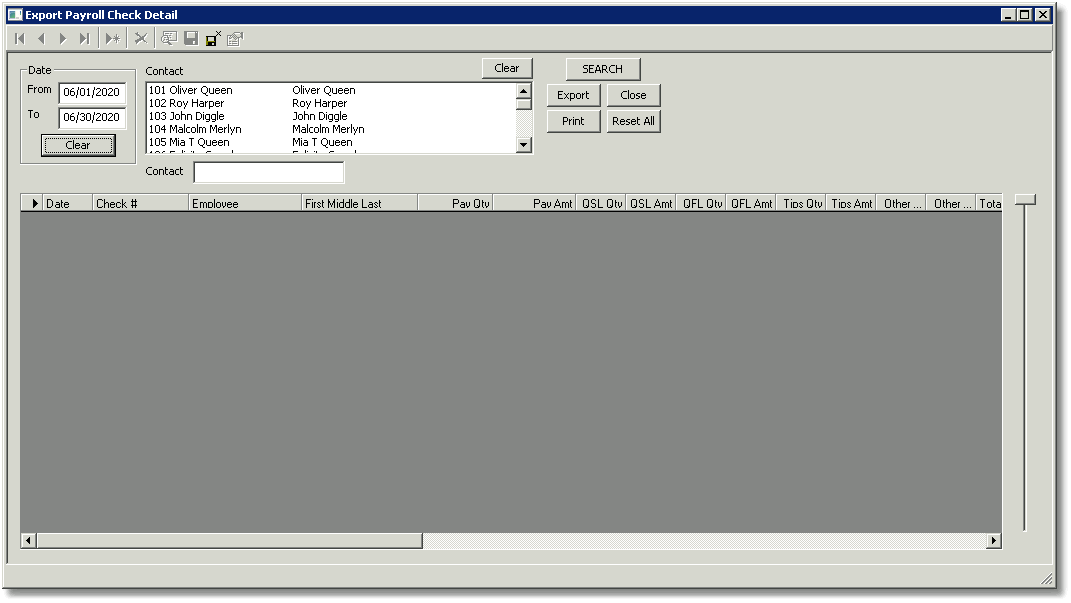 To Create the Export
Select Utilities>Payroll>Export Payroll Check Detail.

Enter the desired From and To Dates.
To filter for specific employees, select the desired employees by clicking on them.
Click Search to display the results.

Export to a Comma delimited file, Tab delimited file, or Ascii file. Open the exported file in Microsoft Excel and make any desired edits. You may delete columns or insert rows and create formulas for subtotals and totals as needed.
Click Print to print the displayed search results.
Click Reset All to reset the Dates to the current accounting periods and clear all filters.