Dillner's Accounting Tools > section > Payroll
Payroll Recalculate is used to recalculate payroll tax liabilities for payroll tax forms after something has been changed.

Some examples of when to use Recalculate are:
If a check is entered with an older date than what has already been entered.
If an unemployment rate is changed after checks have been entered, Recalculate will recompute the unemployment rate from the period that follows the Effective Date in the SUTA rate table.
If an employee's exempt status is changed.
If a payroll item is changed from exempt to taxable or taxable to exempt.


To Recalculate Payroll
Select Utilities>Payroll>Recalculate.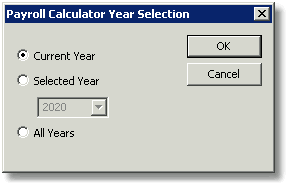 Select Current Year to recalculate the current year.
Select Selected Year and choose a specific year from the drop-down list to recalculate that year.
Select All Years to recalculate the entire file.
If a single year is selected, Payroll Recalculate will recalculate from the beginning of that year to make the changes that affect payroll tax returns and payroll reports. It will NOT change any check that has already been entered or calculated and it will NOT change the Detailed General Ledger.