Dillner's Accounting Tools > section > Payroll
The employee Pay Rate is saved on the Employee tab in the Contact Screen. You may need to change the pay rate for more than one employee in a pay period. Use the Edit Pay Rates window to view and edit rates for all employees.
Select Utilities>Payroll>Edit Pay Rates.
Select Hide Inactive.
Enter a new Rate as desired.
Edit the Last Rate Date field, if you would like.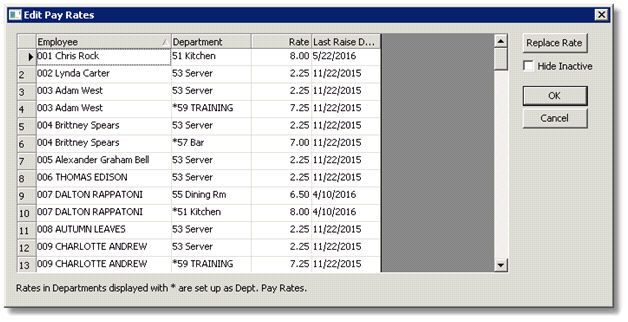 Note: For clients with many employees with the same hourly rate (such as a restaurants)
use Replace Rate.
Click the Replace Rate button.
Enter the original amount in the Find Value field.
Enter the new amount in the Replace With field.
Click OK.

In the example shown in the screenshot above, the rate for all employees at 2.25 would change to 2.85.