Dillner's Accounting Tools > section > Activities
Use Pay As You Go W/C to create a file each payroll period to be uploaded to a Workers' Compensation insurance provider.

Select Activities>Pay As You Go W/C.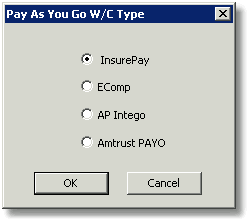 Select the desired file type and click OK.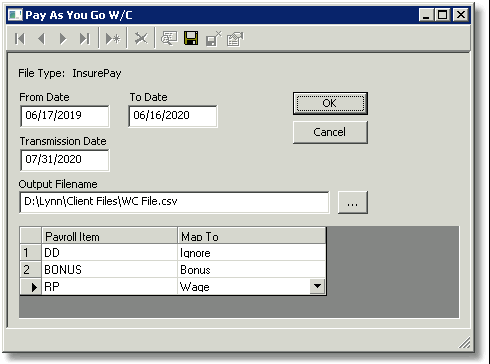 From and To Dates—These dates default to the last payroll date, but can be changed if necessary.
Transmission Date—This field defaults to the system date, and can be changed if necessary.
Output Filename—Browse to find the correct folder and enter a name for the file.
Map Payroll Items—All applicable payroll items used in the selected date range will be displayed. All items must be mapped. The available Map To selections may vary depending on the selected file type. Select Ignore for items to be excluded from file.
Click OK to create the Pay As You Go WC file to be uploaded to the insurance provider.

Click Cancel to exit the window without creating the file.

Note: You can save the mapping before creating the file. Click the Save icon in the Data Bar to save the mapping without creating the file. Mapping will automatically be saved when you create the file.