Dillner's Accounting Tools > section > Write Up
FCA is a period driven program. Most entries will be reflected in account balances based on the period in which they were entered. When processing for a period is complete close the period to move to the next period for processing. If you need to enter or import data to a future period prior to completing the current accounting period select Process Future Period from the Utilities menu.

Select WriteUp>Close Period.
Close the current accounting period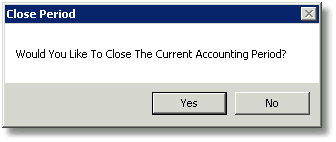 Click Yes to continue.
Click No to cancel.
Click Yes to backup before closing the period.
Click No to close the period without backing up.
Click Cancel if you do not want to close the period.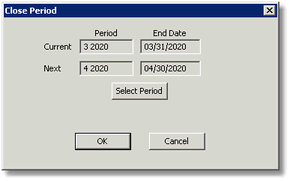 Click OK to close to the next period.
Click Select Period to close multiple periods.
Click Cancel if you do not want to close the period.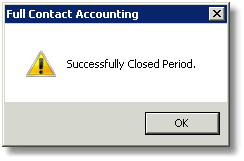 Close Multiple Periods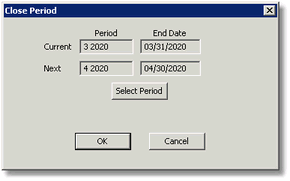 Click Select Period.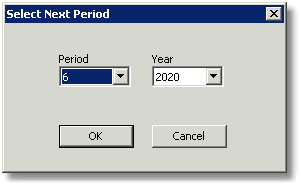 Select the desired Period and Year from the drop-down lists. You may skip up to two years.
Click OK to save your selection and return to the Close Period dialog.
Click Cancel to return without saving your selection.
If you are closing multiple periods the following dialog will display the number of periods which will be skipped for verification.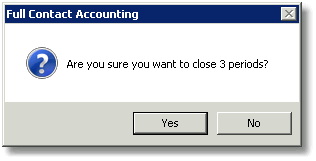 Click Yes to close the periods.
Click No to return to the Close Period dialog.
The following dialog will be presented when the period has been Closed.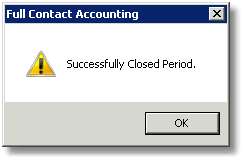 4/4/5 Period Type Clients
If the client you are working as has a 4/4/5 accounting period type, you will need to change the period end date as you close. Select Yes in the 4/4/5 Period Type value field on the Accounting Tab in Setup>Company Information. This will allow to overwrite the suggested End Date.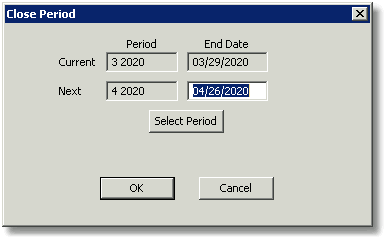 NOTE: Changing the End Date does not advance the file more than one Period.