Dillner's Accounting Tools > section > Admin
Create Client Setup Data is used to create a file which will be used when you set up Professional Business Manager™ (PBM) for your clients. This file contains settings for the program configuration, as well as admin and accountant user information from your PBM installation.

Select File>Admin>Create Client Setup Data.

A dialog box will open with a list of several options from the Accountant, Security, General, and Company Default Paths tabs in Setup>System Options. The values displayed for these are the settings in PBM. Change the entry in any field of the Value column for a particular client. The client's Setup Data File will be created with the selected Values.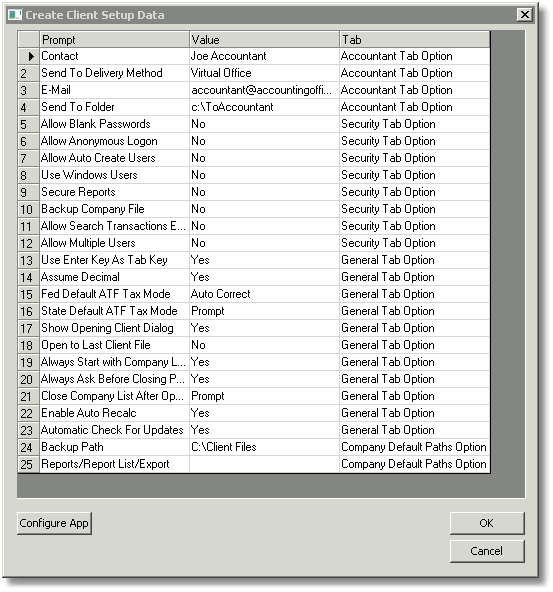 Accountant Tab Options
Contact
Send To Delivery Method
E-Mail
Send To Folder
Security Tab Options
Allow Blank Passwords
Allow Anonymous Logon
Allow Auto Create Users
Use Windows Users
Secure Reports
Backup Company File
Allow Search Transactions Edit Amount
Allow Multiple Users
General Tab Options
Use Enter Key As Tab Key
Assume Decimal
Fed Default ATF Tax Mode
State Default ATF Tax Mode
Show Opening Client Dialog
Open to Last Client File
Always Start with Company List Open
Always Ask Before Closing Program
Close Company List After Open Client File
Enable Auto Recalc
Automatic Check For Updates
Company Default Paths Options
Backup Path
Reports/Report List/Export
Click the Configure App button to make changes to the configuration. Detailed information is available in the Configure App article.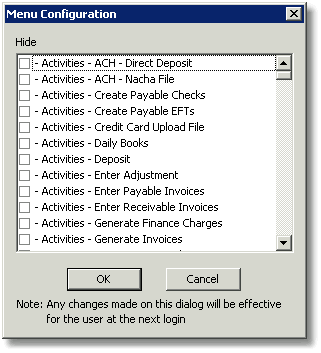 Make desired selections and click OK to save the Menu Configuration.

Click OK on the Create Client Setup Data dialog box to create the file.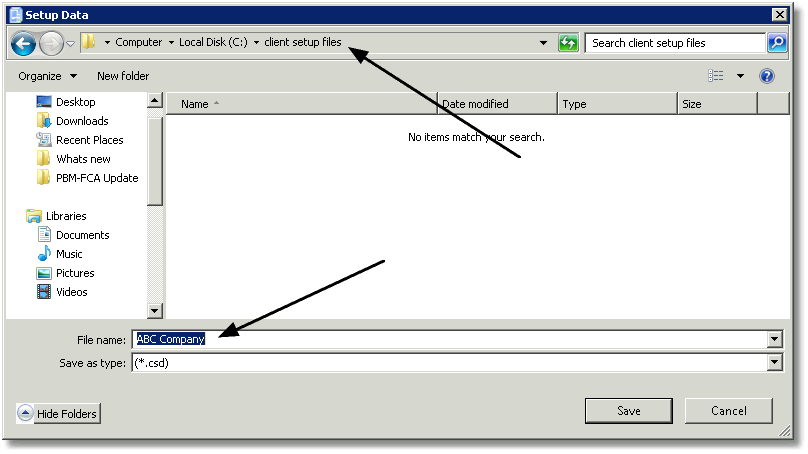 Save the file to a path where you can find it. You can upload the file to the client via the Virtual Office, or copy it to a flash drive.

At the client's location select File>Admin>Load Client Setup Data to load the settings and data file into PBM.