Dillner's Accounting Tools > section > Exports
The FCA™ Check Verification Export is used to create a text file containing a list of checks which have been written. This file can be uploaded to the bank. Checks can be exported by Check Number or Date range.

Select File>Exports>Check Verification.
Select Check Number or Date Range in the Export by field.
Enter the desired check numbers in the From check # and To Check # fields or desired dates in the From and To date fields. (When Date Range is selected in the Start/End Date field, the dates will default to the Start and End dates of the current account period. When Last Payroll is selected, the From and To dates will default to the date of the last payroll check which was entered.)
Enter the Number of Columns to be included in the export. This only needs to be done prior to the first export.
Select the desired variable for each column in the Map To fields. Each variable may be included in only one column. These selections will be remembered for future exports.
Click OK to create the file.


Export Check Verification Options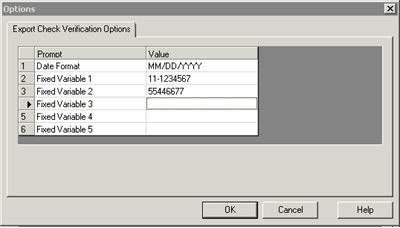 Date Format

Select the date format required by your banking institution. Choices are MM/DD/YYYY, MM/DD/YY,
MMDDYY, OR MMDDYYYY.

Fixed Variables 1–5

Enter the data to be mapped to each column in the export file, as required by your banking institution. For example, the checking account number or company FEIN may be required by the bank, and can be entered here.