Dillner's Accounting Tools > section > Exports
FCA™ will allow you to create a file and which can be uploaded to the IRS for Bulk TIN Verification.

Select File>Exports>Bulk TIN Verification.

Browse to the desired directory, enter a file name and click Save.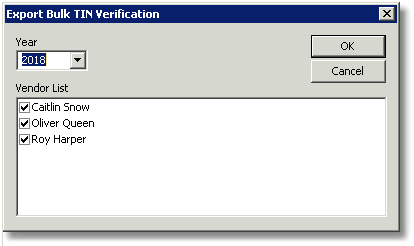 Note: All contacts with 1099 activity for the selected year will be displayed. Select the Vendors to be included in the export individually, or right-click to open a menu, then click Select All, Select None, or Invert Selection.

Click OK to create the file, then click OK when the export is complete.

The file is ready to be uploaded to the IRS. Specific instructions to apply for TIN matching or uploading files can be found on the tax professional pages of the IRS website.