Dillner's Accounting Tools > section > Imports
Use the Generic Contacts import to import Contacts from any tab delimited or comma delimited text file. The text file must contain a field to be used for the Lookup in FCA™.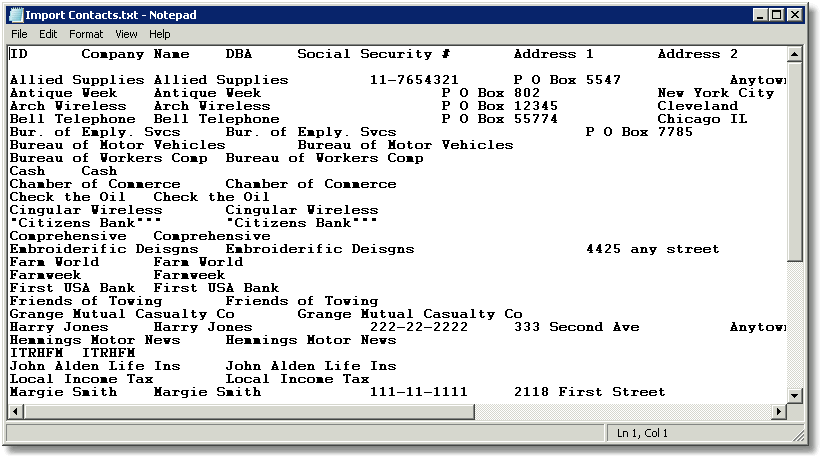 Select File>Imports>Generic>Contacts - general.

Find and select the file to import. The file can have any name with any extension, as long as it is a Tab delimited or Comma delimited file.
If you are importing a file that is from a source you will be using again, like another accounting program, select a predefined template from the Template list by double-clicking on the template name in the list or by typing in a new template name and clicking the New button to add it to the list.


Note: These templates are saved globally and will be available to all company files in the future. You do not have to set up or use a template for a one of a kind file.



Review the file. Notice in the screenshot above that (a) the Data starts in row: 3 and that (b) the Header is in row: 1. The file is (c) Tab delimited and some data (d) Fields are surrounded by quotes.
Select settings accordingly as shown with arrows in the example below.
Click Save to save any option selections.
Click OK.

The next window is used to map the fields and items in the import file to the appropriate fields and items in FCA. Some fields are appropriate to import and some are not.

Select the appropriate field in FCA from the drop-down list for information to import. Select Ignore for information that will not be imported.
Click OK when the mapping is complete and the Contact records will be created.


Note: A "Not Responding" message in the Windows Task Manager does not mean that the program is not working. A dialog box will open when the process is complete. DO NOT end the task or interrupt the import.


Select Utilities>Search Company Contacts or Setup>Contacts>Company Contacts to review or edit imported contacts.