Dillner's Accounting Tools > section > Setup
Local Withholding type payroll items are used for Local Withholding tax that is based on gross wages assigned to a taxing entity. For payroll checkwriting, local tax tables must be set up before Local Withholding items. Only one item may be set up for each taxing entity.

Lookup—Enter a brief identifier for the payroll item. It can be any desired alphanumeric combination. Each Lookup must be unique. It should not be more than seven characters.

Description—Enter a meaningful description in this field.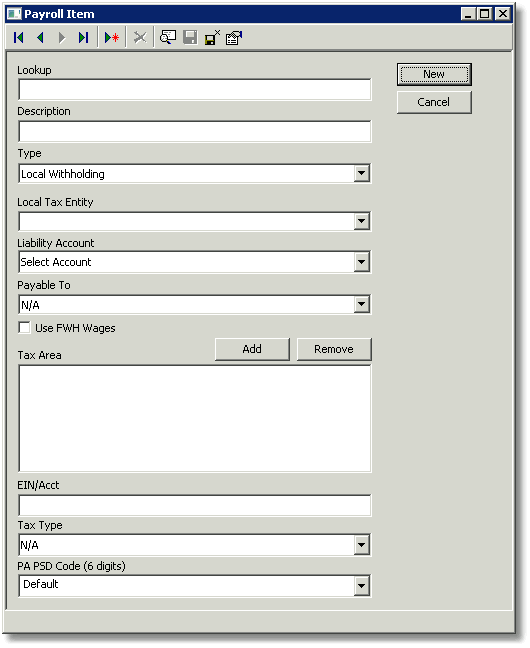 Local Tax Entity—For payroll checkwriting, select the entity from the drop-down list. Tax tables must be set up prior to creating the local withholding item. For after-the-fact payroll, you can type the name of the entity as desired.

Liability Account—Select the appropriate general ledger account that should be credited for the tax. If you want the system to create a payable invoice for this deduction, you must select a liability classification account.

Payable To—Select the desired payee if you want the system to create a payable invoice for this deduction.

Use FWH Wages—In some instances, different local tax entities for the same company have different rules for whether a deduction is exempt or taxable. If a deduction in only exempt from local withholding in some localities, do not check the LWH box on the deduction item. If a deduction item is not marked as exempt from LWH, but is for this local tax entity, check the Use FWH Wages box.

Tax Area—The tax area field MUST include the local tax entity. If wages are taxed by more than one entity, include ALL possible combinations.

In the example in the screenshot above, the system calculate taxes on wages with a locale of Perrysburg or Perrysburg & SD123. Click the Add button to open the Add Locale dialog box. Select a locale from the drop-down list or enter a new locale.

EIN/Acct—Enter the EIN or Account Number for this entity.

Tax Type—Select the appropriate Tax Type from the drop-down list for Indiana, New York, and Oregon for proper placement of taxes on payroll tax returns.

PA PSD Code (6 digits)—Enter the appropriate PA PSD Code or select Default to use the PA PSD Code on the Company Payroll Default tab in Setup>Company Information. This code will print in the Locality Name field on Form W-2.