Dillner's Accounting Tools > section > Setup
The payroll entry window may be customized for each client in FCA™ or PBM™ based on the information received from the client. This is done by setting up payroll templates. Payroll templates include frequently used payroll items. It is NOT necessary to include all items that exist for a company, nor is it necessary to include infrequently used items. Infrequently used payroll items can be added to a payroll check at run time.

As few or as many templates may be set up to make data entry as simple as possible. Each client should have at least one template. It should be named Default as the system will place the word Default in the Pay Template field on the Employee tab of the contact when a new employee is set up. Create different, appropriate templates for employee groups that do not match the criteria for the Default template. You want as few templates as possible for payroll checkwriting. Taking the time to set up templates will decrease processing time on a monthly basis.

Create Payroll Templates
Select Setup>Payroll Templates.

Create a Default template for most employees. Type Default in the Template Name field.
In the upper grid, create a row for each Item (RP, OT, etc) that will have an entry for most employees most pay periods. Allow the program to populate the remaining columns. The program will use 'default' or 0.00 or 1.00 where appropriate. Typing a value in any of the remaining fields will cause the employee defaults to be overwritten by the value that is in the template when payroll checks are entered.
In a payroll checkwriting client, create a row in the lower grid for any Payroll Item (deduction or income) that is set up in the Item Limits window for any employee linked to this template.
Note: Do not create rows for tax items for payroll check writing clients as the program will calculate taxes as necessary.
Create additional templates for specific departments or employees, specifying amounts or rates in the appropriate fields.
ATF Payroll: For an after-the-fact client, all pay, deduction, and tax items can be entered in the top grid.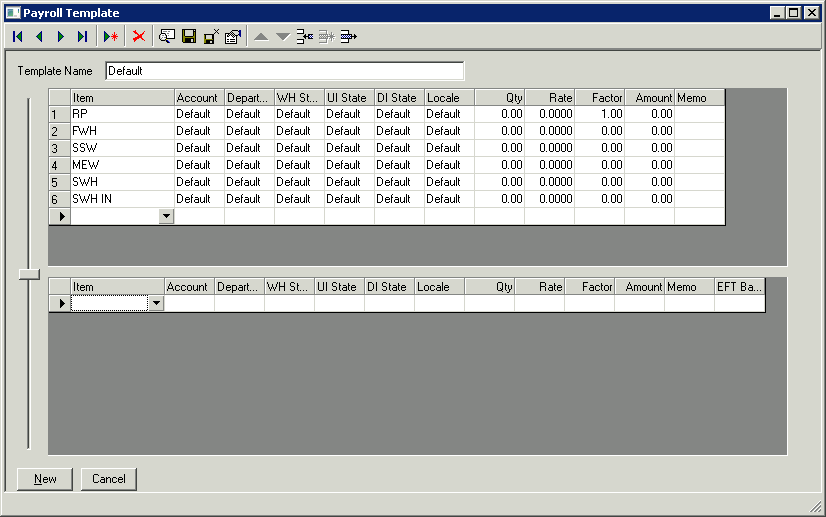 Note: If an item in a row needs to be changed on a payroll template, DO NOT just type a new item Lookup in the item field. Remove the bad row and insert a new row with the new item. You can rearrange the order of the rows using the up or down arrow buttons in the toolbar to move the selected row. The selected row can be easily identified because there is an arrow instead of a row number in the left column. The active cell has a darker gray outline.