Dillner's Accounting Tools > section > Setup
Use the Setup>Keyboard Shortcuts window to create custom shortcuts. Shortcuts become effective for all users the next time they log in.

Select Keyboard from the Setup menu.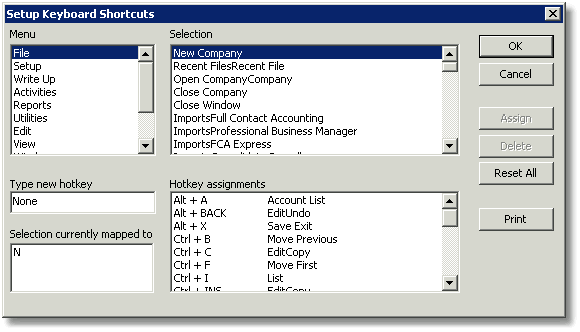 All Windows default shortcuts are listed in the Hotkey assignments box and can be removed or replaced.

You can use the mouse or keyboard to move around in this window. To use the keyboard, press the Enter or Tab keys to move from section to section. Use the up and down arrow keys to highlight the item in the box and the space bar to depress a command button.


To Create a Shortcut
Highlight a Menu item.
Highlight the Selection for the menu.
With the cursor in the Type new hotkey box, use the keyboard to enter the shortcut key or keys. The word None will not disappear until you press a key.

Most of the function keys (F5, F6, etc) may be used alone.
Just about any key on the keyboard may be used in conjunction with the Ctrl key.
It is not desirable to use any single key, except for function keys (F5, F6, etc.)
Do not create a shortcut that is a letter combined with the Shift key, as shortcuts will be triggered when typing.
Do not use the following letters with the Alt key because they are used to access the primary menu items: C, D, F, H, N, R, S, T, and V.

Click the Assign button to assign the key. If the key or key combination has already been assigned, a dialog box will open. Select Yes to reassign the hot key. Select No to make a different shortcut.
Multiple shortcuts may be assigned to any window. All assigned shortcuts are listed in the Selection currently mapped to box.
Click OK to save all changes or Cancel to abort all changes.
Delete a shortcut key
Locate and highlight the shortcut to be deleted in the Hotkey assignments box.

Click the Delete button.
To Reset to FCA/PBM Default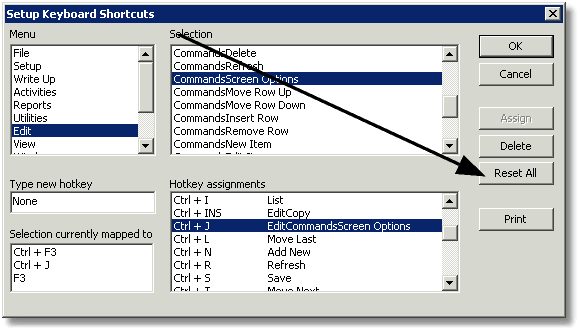 Click the Reset All key to remove all user defined shortcuts and restore the set of FCA default shortcuts.