Dillner's Accounting Tools > section > Payroll
CalSavers accounts are Roth IRAs so you will the payroll item up the same way you would a Roth IRA. This is NOT a Pre-tax deduction. This is NOT printed on the W2.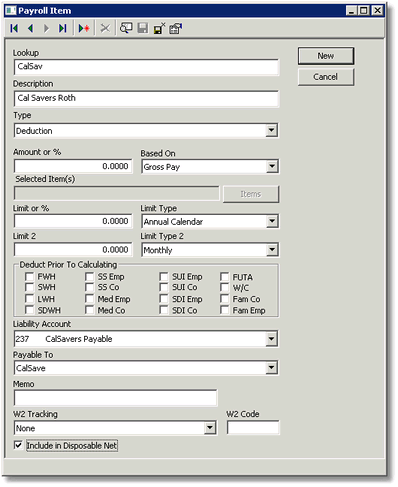 To set up the payroll item:
Select Setup>Payroll Items.
Enter a Lookup and Description.
Leave the Amount or % 0.00
Select Gross Pay in the Based On field.
Enter the Roth IRA Limit for the current year in the Limit or % field.
Select Annual Calendar in the Limit Type field.
Do not enter anything in Limit 2. Leave Monthly in Limit Type 2.
Do NOT check any boxes in the Deduct Prior To Calculating section.
Select the desired Liability Account.
Select the desired Contact in the Payable To field if you are using Create Payable Checks to record the liability payment.
Enter a Memo if desired. (This memo prints in the memo field on the check stub.)
Leave None in the W2 Tracking field.
Leave the W2 Code blank.
Add this item to the bottom grid of the appropriate Payroll Template(s).

Add this item and rate to the Item(s)/Limits tab for each participating employee.