Dillner's Accounting Tools > section > Dashboard
Welcome to your Portal!
This portal offers secure functionality you have come to depend on, as well as new, user-friendly updates and features!
Logging In
Go to your accounting office's website. Click the Log In button to enter your Username and Password.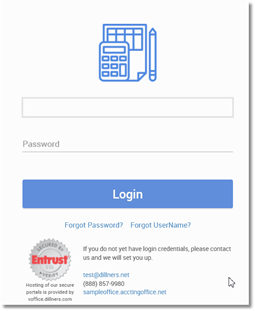 For your convenience, please use the articles linked below to guide you and your staff, step-by-step, through many of the features within your portal.

Dillner's File Transfer Utility

Dillner's File Download Utility
Enjoy exploring the latest and greatest features in your portal!