Dillner's Accounting Tools > section > FAQs
We continually make improvements and add new features to the Virtual Office to meet your needs. We will update this page and the help articles for the topics affected as we make enhancements to the program, so you can be informed and can easily learn how to take advantage of these changes.
(April 2022)
Important - Scheduled Maintenance Alert

To maintain your secure and stable services, our Mail Delivery Provider that we use to send email notifications from in your Virtual Office will be performing a scheduled maintenance:

Start Time: Friday, April 22, at 8:00 p.m. CST
End Time: Saturday, April 23, at 2:00 a.m. CST

You may experience brief disconnects during the maintenance window; however, this will be not a complete outage.
(March 2022)
VO Updates

Important VO update announcements can now be accessed from your Dashboard! Find out about functionality changes or new features within the VO. No downloads are necessary by the offices as these changes are automatic when you log in to your portal!
Click on the View All link from the top Banner of your Dashboard to open the What's New help article (this article). Once you have clicked the link, the banner will disappear from your Dashboard until another update message is released by Dillner's.


You may access the What's New article at any time by clicking on the megaphone icon from the Control Panel.





Files
Logs/Statistics

This new link is located on the Left Menu of the VO and gives you access to the following Logs:
E-Signature Activity Log—allows owners to view details of E-Signature envelopes sent from your office.
Locked Users—allows owners and staff to view a log of locked staff and client users.
E-Signature Activity Log

Using Logs/Statistics > E-Signature Activity Log from the left menu, office owners can search all clients or a specific client from your office and set the desired date range to view E-Signature details. These details can be exported to an Excel document.

The details include:
Date sent
File Name
Sent from (Staff Name & UID)
Sent to Client ID
Sent to Client Name
Sent to Client Employee
From Office
Office Owner Name
Updated Date (Date signed)
Status (Sent, Signed, or Waiting)
Click here for more information about the E-Signature Activity Log.
Locked Users

Users are granted 5 attempts to log into the VO. If the user is not successful after the 5th attempt, the user will receive a message stating the user has been locked out.

Using Logs/Statistics > Locked Users from the left menu, owners and staff may view Locked users consisting of their clients, client employees, and office staff from the Locked user Log.

The Log provides the owner or office staff the ability to generate a Reset Password link to the user.

Click here for the online help article about Locked Users.
Conversations
Enable Conversation Module

An owner/partner may enable or disable the Conversations Module for their office and clients from the Office Default Settings Section of the Office Profile.

Uncheck the Enable Conversations Module box to disable Conversations.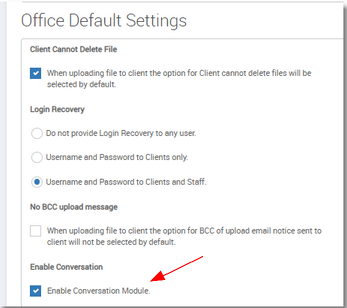 (January 2022)
Files
Utility Files—A Toggle Select All button has been added to allow users to check multiple files for deletion after being downloaded.
(December 2021)
E-Signature Enhancements/Changes:
Each signer is required to have their own secure portal.
A document cannot be sent to the same email twice as the software is email unique.
If a signer does not have a portal, the VO will create a new client portal for them using their first name, last name, and email address.
The VO will scan the database to ensure the email address entered for the new portal does not currently exist.
If an email match is found, the VO will prompt for a new email address.
An automated email will be sent to the signer with a link to create a username and password for their new portal.
The "order of the signers" can be re-arranged as all signers will access the document from their secure portal.
You may now attach multiple files for signature as the VO will merge these files into one PDF prior to the placeholders being added.
Text Message Verification code and User Password are new features available as added layers of security to verify the signer before accessing the document.
These features can be added during the signature/date placeholders process on the document.
Once all signatures have been completed, each signer can download a copy of the signed document along with the Signature Log for reference purposes.
(September - November 2021)
Interface Options
We have added new ways to sort and display information on the File Management and Client Management pages.
You can sort the information by clicking on Column Heading.
You can display or hide columns by clicking the funnel icon at the top of the list and setting your preferences.
You can choose how many files you would like to load on each page from the drop-down menu at the bottom of the list.


Files
We have added an electronic signing option, E-Signature, as a new feature to the Upload to Client process:
To Activate E-Signature—Your office Owner or Admin can click the Signature Requested button, below the Title field. The Activating E-Signature article includes more detailed instructions if needed.
To Use E-Signature:

Upload a PDF to one or more signers.
If multiple files are attached, they will be automatically merged into a single PDF.
Once signed, the document is returned to your office immediately.
More detailed instructions are available in the E-Signature - Upload with Single Signature help article.

Why E-Signature?

Security—E-Signature allows portal users to sign documents without leaving the secure portal environment. The VO will automatically build a secure portal for non-portal signers.
Document Retention—Your office and clients all receive a copy of the signed document and a signature log to retain for reference purposes.
Visibility—The new "Signature Required" icon allows you to quickly identify files that haven't been signed yet.
Cost—After a one-time activation fee of $50, offices are billed $1.50 per envelope on a monthly basis.
Within the Files Module, we have added the following:
Updated Search Filters—Search All Files for All Clients by Category, Department, Year, Title, or Filename.
Review Queue—The option to backdate a file to the previous year was added.
Download Guest Files—A Download All button was added to download multiple files at once.
Follow-up Notices—This link was previously located under the Conversations Module. This allows you to send reminder notices with the file link to your clients.
Conversations
The Conversations Module has been enhanced as an easy way to communicate with your clients and staff:
Conversation Use—Send mass emails or converse directly with your clients/staff through your portal.
Conversation Recipients—You can send a conversation to one or many clients or staff members.
Conversation Retention—All threads of your conversations are retained for reference purposes.
Advanced Search Filters added—Search by the Title, Date range, and client or staff Name.
Message Templates—Use the format bar to add images (i.e. office logo) to your message templates.
Security
Two Factor Authentication—Activate using your Office Profile under Office Default Settings as an added layer of security.
Contact Dillner's Support for a demo of E-Signature or any of the other VO features!